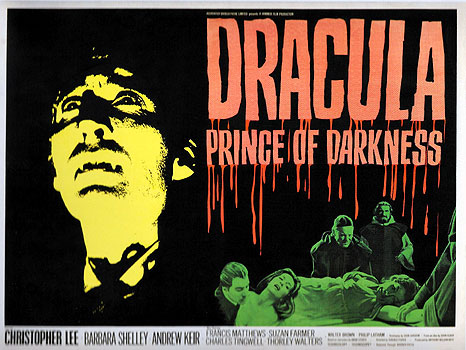 Wait-- what are you doing? You aren't going to work today are you? If you're already there grab a bucket and clutch your stomach letting your boss know that stomach flu is hitting you hard and get yourself home so you can plop on the couch and watch TCM today!
At 10:15 this morning is DRACULA PRINCE OF DARKNESS (1965) which is one of the best of the Hammer Dracula films followed by CURSE OF FRANKENSTEIN (1957) at 1:45- Peter Cushing makes a pretty creepy Dr Frankenstein. At 5pm is THE MUMMY (1959) which features Cushing and Christopher Lee in a pretty good little thriller.
At 9:30pm is NIGHT OF THE LIVING DEAD (1968) which is a true low budget classic, and the nice thing here is that Turner shows a great print of this public domain film.
It's monster movies all day-- but shouldn't it be all year long??
Tomorrow I'll try to squash my depression over the passing of Halloween with Woody Allen's SLEEPER (1973) at 9:45pm While Wednesday at 8pm is NIAGARA (1952) which features Marilyn Monroe and Joseph Cotten in a Hitchcock like thriller that is worth your time.
Thursday at 4:30pm is TOM THUMB (1958) with Russ Tamblyn skipping his way through the role. It's a great movie to watch if you have a terminal disease and want every second of your remaining life to last as long as it can.
Friday at 8pm we have some hope with 1933's THE INVISIBLE MAN which is James Whale black comedy horror film and an absolute can't miss movie.
Saturday's got TARZAN AND THE GREAT RIVER (1967) with the James Bondish Mike Henry as the ape man followed by Peter Cushing as Sherlock Holmes in 1959's HOUND OF THE BASKERVILLES.